? ?  After facing what seemed an insurmountable decline in desktop PC sales during the first six months of 2005, Advanced Micro Devices (AMD) captured a 52% share of the US retail desktop PC market in September, according to
Current Analysis
. AMD's performance during the back-to-school shopping season topped chip giant Intel's 46% share by six points, said the market research firm. Despite its past successes in surpassing Intel desktop sales in select retail sales weeks, September 2005 marked the first time AMD was able to outperform Intel for an entire month, the research firm stated.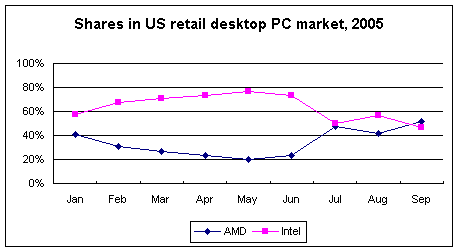 ? 
Directly contributing to AMD's success was the rise in popularity of Media Center PCs. In September, Media Center PCs accounted for 46% of all US retail desktop sales. Of those sales, 55% included an AMD-based processor, Current Analysis said. The star system of the Media Center movement and AMD's success was the HP Pavilion a1130n, the research firm noted. Running Microsoft's Media Center OS and offering a 64-bit AMD Athlon 64 processor and 1 Gigabyte of RAM for a post-rebate price of US$679; the a1130n has become the best selling Media Center PC in retail to date, according to Current Analysis.
more fact :
1-? ?  AMD64 VS INTEL64
2-? ?  AMD dual core Vs Intel dual core
3-? ?  Amd dual core Vs Intel dual core
4-? ?  Amd Vs Intel?  value processor
5-? ?  AMD Opteron?  vs. Intel Xeon?  web performance
6-? ?  AMD Opteron vs. Intel Xeon: Database Performance? 
7-? ?  Linux Shootout: Opteron 150 vs. Xeon 3.6 Nocona
? When you read these reviews, Its very clearly in the last 2 years AMD has introduced the fastest, most stable &?  low cost cups in the market thus its popularity has became widely in worldwide & specially in US market. Now I am wondering when the middle east?  companies/users will wake up and understand those facts..